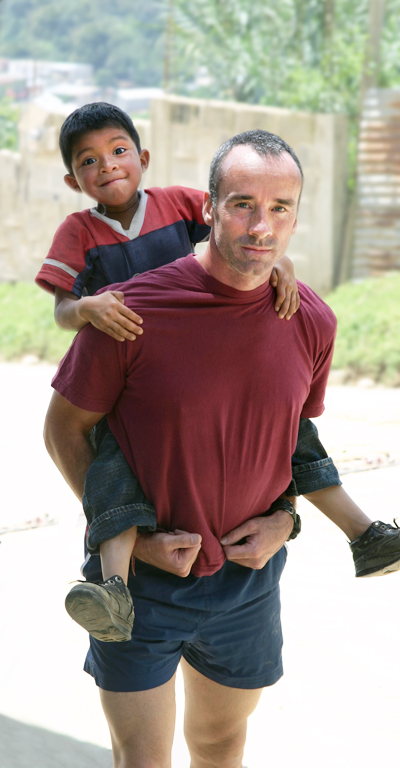 I suppose I ought to say a little about who I am, and why I do what I do. I came into personal training by a roundabout route, beginning with the years I spent as a theatre manager in London's West End, where I was able to study and develop my interest in what makes people tick.
The other abiding obsession I developed was in the mechanics of keeping fit. I used to cycle to work miles every day, and then took that several stages further by cycling on massive trips through Israel, Mexico and across the Andes in Perú and Ecuador.
Eventually these two interests came together. In 1999 I set out on my personal quest to become a full-time trainer. Because of my theatre contacts, I was able to complete some of my training hours giving massages (you need at least 100 before qualification) to several actors including Dawn French and Laurence Fox.
My experience grew and I gained the confidence to go full-time – I left my last theatre job in 2005. Since then I have trained many people from all walks of life (although the stage connection continues with clients such as Henry Goodman, Caroline Quentin, Stephen Tomkinson and Zoe Wanamaker) at gyms and in their own homes, specialising in diverse routines including fitness training, Pilates, different types of Yoga and various massage techniques such as sports, Thai and Chavutti massage. In 2007, I worked with Daniel Radcliffe as a fitness trainer, also devising routine warm-ups for him as part of his nightly preparations for his major stage debut (in both London and New York) in Peter Shaffer's "Equus".
So I had established myself successfully as a trainer. However, I didn't want to rest on my laurels: I have not only retained my commitment to learning but if anything extended it. As a result I studied for a degree in Physiotherapy, gaining first class honours at Brunel University in 2011. Now I can offer physiotherapy skills as part of my complete personal package: my clients cover the full spectrum of ages and activities. In addition, I work for the well-known providers of physiotherapy in the home, Physiocomestoyou.
Finally, a quick word about the charity work I have done, personally rewarding spells helping disadvantaged children in Guatemala in 2006 and on two separate trips to Peru in 2008 and 2011, during the last of which I specialised in physiotherapy for children. You will see some of the many images from these visits on the website.
Marc